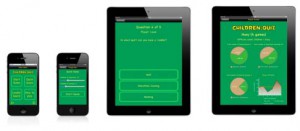 Children:Quiz is a really fun quiz game for children with over thousand (+1000) questions.
You can quick-play or play with up-to six (6) individual children with the following possibilities:
– Over a thousand children-level questions
– Up-to 6 players in one match
– Quick-&-Play game
– Statistics
This is the perfect companion when traveling by car, train or airplane as well as at birthday parties etc.
For support either contact the author here or add a comment below. You can also email to "forfattaren(x)thefroghouse.com" (swap (x) to @ in the email address).